Contact Jenny now to get a quote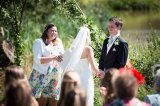 Knight Ceremonies

0 0
Looking for the best price? Enquire through WeddingPlanner.co.uk
Summary
Established Independent Wedding Celebrant with a natural approach and warm and engaging delivery.
Key information
What style of ceremony do you offer?
Spiritual, Renewal of Vows, Commitment Ceremony
How far in advance will you meet us?
I generally like to meet clients for a consultation, but this can take place with months, or indeed weeks until the big day, as I cover weddings that have shorter lead times too.
Is a rehearsal included?
No
Can you help us write our vows?
Of course! I love writing, and I love personalising things so I can guide you through the process to create your own wording, or indeed assist with the writing itself.
Where are you based?
Surrey/Hampshire borders but cover the South in general.
Do you have Public Liability Insurance?
Yes
Are you a member of the Fellowship of Professional Celebrants
Yes
What other services do you offer?
Weddings, Renewal of Vows and Baby Naming Ceremonies, plus I source many ceremony related products for my clients too.
What forms of payment do you accept?
Cheque, Cash, Bank Transfer
About
More about us
*Wedding Industry Awards Finalist*
Crafting and conducting beautifully bespoke and personalised wedding ceremonies across the South. Incorporating mixed faiths, cultures, family traditions, and embracing diversity. Specialising in outdoor weddings, but vast experience in rustic barns, festival themes, tipi or marquee weddings, same sex, weddings at home, multicultural celebrations. Allow me to help you create a ceremony unique to you. It's your day, lets make it unforgettable.
View availability
This supplier has not received any reviews yet.