Contact Deborah now to get a quote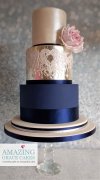 Amazing Grace Cakes

0 0
Looking for the best price? Enquire through WeddingPlanner.co.uk
Summary
Luxury Wedding Cakes, fantastic flavours, showstopping designs
Key information
What kind of wedding cakes do you offer
Traditional, Cupcakes, Alternative
Do you do bespoke designs?
Yes
Can you do gluten/wheat/dairy free?
Yes
Can you supply cake toppers?
Yes
Where are you based?
Farnborough, Hampshire
How long before my wedding should I order?
Latest notice 2 weeks
What forms of payment do you accept?
Cheque, Cash, Bank Transfer
About
More about us
Working from home, we offer a professional and friendly personal service. We specialise in making stunning Wedding Cakes, Cupcakes and favours using only the freshest and highest quality ingredients. Please feel free to contact us though our website, by phone or our Facebook page
View availability
This supplier has not received any reviews yet.