Contact Debbie now to get a quote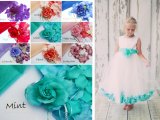 Dresses for Gorgeous Girls

0 0
Looking for the best price? Enquire through WeddingPlanner.co.uk
Summary
Handpicked flowergirl dresses , in many colours, in stock and dispatched from the UK with a 14 day return policy.
Key information
What do you stock?
Bridesmaid Dresses
Shop location (if applicable)
Online only
Appointment necessary?
N/A
Are alterations included?
No
Do you offer a bespoke service?
No
What designers do you stock (if applicable)
none
Do you sell accessories?
No
About
More about us
We specialise in flowergirl dresses from baby size 3mth up to age 14yr. In vibrant colours and styles, many of our dresses can be ordered in , if the size you require is not in stock. Our petals dresses come in 23 different colours, so you can be sure to find a colour to match your wedding theme. We also cater for young wedding guests and have a beautiful range of girls party dresses to choose from.
We dispatch from the UK within 1-2 days for in-stock items and 2-3 weeks for special orders. All dresses come with a 14 day return policy because we want you to love our dresses as much as we do !
View availability
This supplier has not received any reviews yet.