Contact Isabel now to get a quote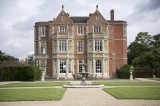 Wickham House

1 0
Looking for the best price? Enquire through WeddingPlanner.co.uk
Summary
Wickham House combines elegance with the laid-back charm of Berkshire's countryside. A stunning location for luxury marquee weddings, Wickham offers a blank canvas to design a bespoke wedding with the spectacular backdrop of our family home.
Key information
Style of venue
Traditional, Rustic, Casual, Glamorous, Formal
What type of venue are you?
Country House, Historic, Barn
What kind of ceremony can we have?
Indoor civil ceremony, Outdoor civil ceremony, Nearby church
Catering
Recommended supplier
Can we bring our own wine?
Yes
Do you have a late license?
Until 3am
Do you have accommodation?
No
Is accommodation included?
Depends on the package
What forms of payment do you accept?
Cheque, Credit Card, Bank Transfer
About
More about us
Wickham house is a truly stunning venue. Our superb facilities are designed to create exceptional bespoke events executed to the highest professional standards. An hour west of London, Wickham is a magnificent Grade II listed Georgian house that overlooks the Kennet Valley with views all the way across to the downs. This magical setting benefits from the charming Wickham church complete with Saxon tower adjacent to the house available for both weddings and christenings.
Wickham House is the treasured home of Philippa and James D'Arcy, and retains an intimate, relaxed feel. Aside from its sheer beauty it is this personal touch, combined with extraordinary attention to detail, that differentiates Wickham House from other event venues. Whether you are planning an opulent affair or a celebration with a bohemian twist, Wickham House is the idyllic location.
View availability
I said to my husband "Could you pinch me to see if I am dreaming?!" Because we truly could not believe we we were going to be married in such a beautiful location!! Wickham House is a wonderland for the senses. From the very first viewing, right up to and including the day of our wedding it has felt as though we have been in midst of a truly poetic novel of the richest kind. The grounds are radiant and bewitching. Everything so beautifully maintained. The flowers in the walled garden are so captivating, and overflowing with lavish colours that it completely staggered us and our guests on our magical day. We cannot thank you enough or recommend Wickham more highly. Our entire wedding experience will forever remain vivid and stunning in our memories. Every enquiry we had was catered to with great efficiency and love by you all, which we so appreciated. And every visit to your wonderful house and grounds before our wedding stirred our senses and allowed our imagination to soar. Creating our wedding day became so easy and so much fun because the possibilities were endless and the whole journey an absolute pleasure. Our wedding day itself was just incredible. It exceeded all expectations. And we have had an overwhelming amount of beautiful comments from friends and family too. The best wedding they have ever attended, and for us you gave us a dream we never thought possible. You will all be forever in our hearts. Thank you … and love to you all .. x