Contact Andy now to get a quote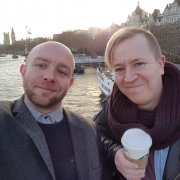 My Fantastic Wedding

1 0
Looking for the best price? Enquire through WeddingPlanner.co.uk
Summary
Hi, I'm Andy, your Professional Kent Wedding Planner. My aim is to make your Perfect Day simple. I want you to enjoy your wedding day and the months leading up to it. Working with trusted and professional suppliers, I can save you time, stress and possibly money too.
Key information
What type of weddings do you plan?
Religious, Civil Ceremonies, Large Weddings (150+), Same-sex, Budget weddings, Luxury weddings
What services do you offer?
Concept planning, Full organisation, Tailored packages, Venue finding, Supplier sourcing, Venue dressing
Will you be there on the day?
Yes
Do you offer an advice service/consultation?
Yes
Where are you based?
Sittingbourne, Kent
What forms of payment do you accept?
Cash, Credit Card, Bank Transfer, PayPal
About
More about us
One of the first questions I get asked the most is "Why should we hire you when my Wedding Venue has an Events Team?". My answer is this – They definitely know how to run a wedding at their venue and to their schedule, but will probably be working towards their agenda. After all, they could be holding several weddings close to your wedding date and need yours to follow their schedule to get ready for the next one. Unlike the Events Teams, I only specialise in weddings and I do a lot less of them. I can ensure a higher level of detail than they will, and I only do one wedding per weekend. The Events Teams ensure your Wedding Day itself goes to plan, but what about the months leading up to your wedding? I will be there supporting you every step of the way, looking after only your interests. I am on your side – making your Perfect Day simple.

I would love to get to know you then help you create a unique wedding that you and your guests will remember forever.
View availability
We really loved our wedding. Andy thought of some brilliant ideas that we simply hadn't even considered. He helped with everything - even managing the RSVPs and helping our guests find somewhere to stay. We can't thank him enough for making our day go so smoothly. Our friends and family certainly enjoyed themselves as much as we did. It is a day that everyone will fondly remember and talk about for years to come thanks to Andy.