Contact Ilona now to get a quote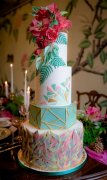 Summary
An award winning cake designer specialising in elegant and eclectic wedding cakes and dessert tables
Key information
What kind of wedding cakes do you offer
Traditional, Cupcakes, Alternative
Can you do gluten/wheat/dairy free?
Yes
Do you do bespoke designs?
Yes
Can you supply cake toppers?
No
Where are you based?
Reading
How long before my wedding should I order?
At least 6months ahead
What forms of payment do you accept?
Cheque, Cash, Credit Card, Bank Transfer, PayPal
About
More about us
Whether it is a unique design reflecting something personal to you, or you prefer to leave the creative design to us based on your theme, we are here to help. Your cake design is as important to us as your cake taste, therefore we use the finest quality ingredients to ensure your cake tastes as great as it looks.
View availability
Thank you so much for our amazing cake!!! I honestly can't thank you enough actually it was just beyond perfect!! Everyone commented on how amazing it was. I didn't want to cut it! You really helped make my day special as having an amazing cake was a big deal to me.<br /> So thank you again.
Ilona's cakes are amazing. She had designed the most beautiful wedding cake from our brief beyond anything I could have imagined. Her friendly approach is amazi...ng and she really does take the time to capture exactly what you want and get to know you. But most importantly the mix of flavours and choices were amazing, our favourite was the carrot cake and our guests absolutely loved it. Thank you.
We LOVED the cake! It was everything that we wanted and was just how We had imagined the cake would look. The detail on the cake just amazed us and the cats as well were perfect. We had so many comments from our family and friends saying how they loved the cake. I will get some pictures through to you shortly.<br /> My family loved the cake so much that I will be in contact with you next year. We have some very big birthdays and we would love if you could make their birthday cakes.
The cake was amazing! Thank you so much everyone really enjoyed it there was great feedback from everyone. We will recommend you to our friends and family.<br /> Thank you for helping to make our day perfect.
We just wanted to say thank you so much for such an amazing wedding cake! The presentation of the cake was absolutely amazing and everyone we spoke to said how beautiful it looked!<br /> You did such a fantastic job and the cake tastes absolutely delicious! Luckily there was some spare when we took it home yesterday and we can't get over how good it tastes!<br /> Once again, thank you so much for all your hard work in helping us design the cake and bringing it to life! We will definitely be recommending you to all of our friends and family!
Ilona is all-in-all fantastic and we highly recommend her. She is super talented and just so lovely too. <br /> It's a very difficult task for someone to listen to your (my) muddled and inexperienced explanation of a design that you have only in your head and for that person to deliver you results. However, Ilona understood us perfectly, and not only did she get what we wanted, but she also helped us to tweak its design to make it even better. <br /> Furthermore Ilona bought round some delicious examples for us to try and helped us to choose what cakes and fillings we wanted. <br /> Ilona communicated with us throughout and delivered to us the most stunning wedding cake that was better then we could have dreamt. <br /> My husband is a chef by trade (he's one who isn't easy to please) and he couldn't fault the taste and look of our wedding cake
Thank you so so much for our amazing cup cake wedding cake! It looked absolutely beautiful, even better than I imagined. We had nothing but complements not only on how beautiful it looked, but how amazing it tasted. You are a very talented lady! Thank you.
The cake was fabulous! Thank you so much. It was beautiful and absolutely delicious. My mum wants you to make her a pumpkin and pecan cake so she can have it all to herself. : ) xx
The cake was absolutely beautiful and tasted amazing - we couldn't have been happier, thank you very much. <br /> It was really delicious and we had loads of the chocolate layer left over which Mike and I ate when we got back from our honeymoon two weeks later - and it still tasted great!<br /> Thanks again for everything - you made a perfect contribution to our wedding day and we really appreciate it.
Our cake was incredible out of this world, amazing. Everyone commented on how fantastic it was, staff at The Ritz said it was the best wedding cake they have ever seen.
Who are we?
An award winning cake designer specialising in elegant and eclectic wedding cakes and dessert tables
Send an enquiry to Tiers Of Happiness now
Who we are:
An award winning cake designer specialising in elegant and eclectic wedding cakes and dessert tables
Once you have a confirmation email, you will be able to go into your account and enjoy all these features.
Checklist

Budget Calculator

Guest List Tracker

Table Planner

Gift List

Checklist

Budget Calculator

Guest List Tracker

Table Planner

Gift List

Are you sure?
If you don't ask, you'll never know...
Continue to chat
Leave
Is this supplier not for you?
Explore other suppliers.