Contact Mrs now to get a quote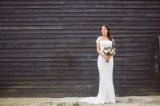 Lucy Martin Bridal

3 0
Looking for the best price? Enquire through WeddingPlanner.co.uk
Summary
We create simple, contemporary wedding dresses for modern brides. Choose from the Collection or go Bespoke. All dresses are made to measure from the finest Italian silks and French lace in our London studio.
Key information
What do you stock?
Wedding Dresses
Opening hours
10am - 3pm Mon-Fri, 10am - 5pm Sat & Sun
Appointment necessary?
Yes
Are alterations included?
Yes
Do you sell accessories?
No
What designers do you stock (if applicable)
Lucy Martin Bridal
About
More about us
Lucy Martin creates simple, contemporary wedding dresses for modern brides. All her dresses are made to measure in her London studio.

Brides can either choose a dress from Lucy's collection or use one of her designs as a template to help them create their own personalised features. Lucy also enjoys working with brides to create a new unique design. Once the design has been finalised each bride will have a toile fitting where a replica of the dress is made in calico to ensure the fit is perfect and the bride is happy with everything before the dress is made in the required silks.

Lucy's collection is based on simple elegance. "My focus is on creating dresses with clean lines and a simple structure in the best quality Italian silk and French laces. The cut has to be right and the dress must be well made and for this reason I work closely with a very talented pattern cutter and a highly experienced team of seamstresses who have worked in the bridal industry for over 30 years.
View availability
Lucy created a bespoke design for me by changing the sleeves and fabric of one of her designs. It transformed it into a completely different dress and was just what I had hoped for! The silk was beautiful and the quality amazing, plus Lucy makes the whole process really relaxing and stress free. I can't recommend her enough.
Lucy was the perfect wedding dress maker - cool, calm and creative. She was so happy to work around my ideas but also provided honest feedback and suggestions as to what she think would work better. <br /> <br /> I enjoyed the experience with Lucy far more than the bridal shops I had been to and ended up with a dress which I absolutely loved.<br /> <br /> I couldn't recommend her more highly!<br /> <br /> X
I had looked in various shops for my wedding dress but found the experience soulless and uninspiring. I didnt think I could afford to have a wedding dress made from scratch but Lucy not only made me a beautiful, bespoke wedding dress for a price I could afford but listened to what I was hoping for and made helpful suggestions all in the comfort of her relaxed studio. It made the experience feel much more personal and I loved the simple, elegant design Lucy created which suited my frame and was made just for me :) Lucy has gone on to make my sisters wedding dress too which is testament to the quality and experience I had