Contact Rakhee now to get a quote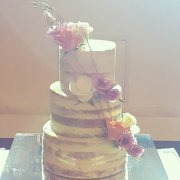 Little House of Baking

13 0
Looking for the best price? Enquire through WeddingPlanner.co.uk
Summary
We believe your wedding should be designed to perfection and reflect upon your personal style in the cakes we create.
Key information
What kind of wedding cakes do you offer
Traditional, Cupcakes, Alternative
Do you do bespoke designs?
Yes
Can you do gluten/wheat/dairy free?
Yes
Can you supply cake toppers?
No
Where are you based?
Pinner
How long before my wedding should I order?
3 months
What forms of payment do you accept?
Bank Transfer
What kind of favours do you offer?
Edible, Keepsake, Traditional, Alternative, Miniature Bottles, Candles, Jewellery, Gift Boxes
Can you personalise your favours?
Yes
Do you have a minimum order size?
Please enquire for more details
How long before my wedding should I order?
2 months
What forms of payment do you accept?
Cash, Bank Transfer, PayPal
What items do you have for hire?
Tableware, Chair Covers, Backdrops, Centrepieces, Balloons, Food Carts
Can we hire individual items?
Yes
Are there any requirements for setting up?
Need access early
When do you collect your items from our venue?
The same evening or next day
Where are you based?
Harrow
What forms of payment do you accept?
Cash, Bank Transfer, PayPal
About
More about us
We at the little house of baking would love to be part of your special day.
We are a very small company that teaches baking and decorating and has
developed the love to bake and decorate cupcakes, cake pops, biscuits,
novelty & wedding cakes. Also provide beautiful favours and venue decoration and sweet and candy carts as a new venture.
View availability
Just wanted to first of thank you for all your hard work on producing such a brilliant cake, our guests loved it and would not stop speaking about how it looked and how it was presented.<br /> <br /> The service was great and Rakhee has to be one of the nicest people we have ever met, her hospitality was great and attention to detail was superb.<br /> <br /> Really friendly and made our day super special by producing a fantastic cake, thank you so much and hope to use you guys again really soon. x
Thank you for a fabulous wedding cake!! It was stunning, gorgeous, elegant and overall tasty!! It meant even more that it was made by you!
Hi Rakhee and SonalThanks a lot, everything was amazing. The cake was really tasty! Wonderful job! Thank you very much xx
Beautiful cake –thanks for your hard work and effort. It tasted yummy and all our friends and family loved the cake x
Please keep my name and email address invisible from the public. Thank you.<br /> <br /> Rakhee did a fantastic job at our wedding. I asked for three different tiers, un-iced (naked cake). At the trial, she picked me from the station and drove me to her super-clean home where she bakes in her kitchen. She's the friendliest cake supplier you'll ever work with and what struck me was her passion for baking. She kept suggesting ways of making my wedding cakes even better. Guests at our wedding were absolutely delighted with the fresh, delicious, homemade cakes. We were hoping to have some leftover cakes, and, although the quantity was more than enough for our guest numbers, there were hardly any cakes left! Our cakes were absolutely delicious and exactly how we were wanting them to be. I would recommend Little House of Baking services to my best of friends and family and would employ their services again should I have another event. Very well done and thank you for making our special day even more special.
Little house of baking designed and made my wedding cake. From start to finish the service was outstanding. Rakhee helped me pick the right style and taste which worked perfectly. The finished result was absolutely outstanding and was a real talking point of the wedding. <br /> The cake was a work of art and I am very grateful. I would highly recommend them as they clearly take pride in their work
Rakhee made a beautiful cake for us. <br /> <br /> She was flexible in terms of design and our budget and came to set it up. Our guests really enjoyed it!!!
A huge thankyou to Rakhee and Sonal. Everyone loved the wedding cake, it tasted and looked amazing. And was everything we wanted. Can\'t thank them enough. We\'ll definitely be coming back .
Very pleased with cake. Looked amazing and better than we expected ! Great detail and tasted delicious ! Good price too !
We found little house of baking online. They were very quick to respond to our emails. We went for a tasting session. Rakhee was really friendly and listened to our needs and came up with suggestions aswell. The cupcakes were delicious and the wedding cake was just amazing. It was extremely soft and tasty! Everyone loved the cupcakes aswell. I would definitely recommend little house of baking to everyone.
Really pleased with the service from Little House of Baking. They delivered and set up the cake, really professional from start to finish.<br /> All our guests commented on how great the cake looked and tasted!<br /> I would definitely recommend Little House of Baking.
Rakhee- thank you for all your hard work in creating our perfect wedding cake. <br /> It was exactly as I pictured it. Tasted great and guests loved the 5 tiers :-)<br /> Great communication- even late at night when I had so many queries/questions she was there to put my mind at rest. Thank you for our delicious wedding cake. xxx
Rakhee made this cake for our wedding. She met us before for a tasting session and we chose out of 6 flavours. She listened and delivered exactly what we wanted and I can say this was truly the best wedding cake I have tasted and seen in my life!guests commented at the tastiness. She delivered on time and had fantastic communication. Very fair pricing . Perfect! Thank you very much