Contact Jay now to get a quote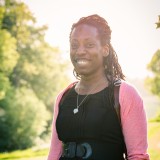 Summary
Relaxed Fun Wedding Photography for Awesome Couples in Love! Fun People, Real Weddings, True Love Stories
Key information
Style of photography
Reportage, Artistic, Alternative, Journalistic
Standard rate includes
I'm flexible
Do you include an engagement shoot?
Yes
Can we add a second shooter?
Yes
Where are you based?
Worcestershire
Do you do destination weddings?
Yes
Are prints/books included?
Yes
Are digital copies included?
Yes
What forms of payment do you accept?
Credit Card, Bank Transfer, PayPal, Other
About
More about us
Hey gorgeous!
(Yes, I do mean you.)

You know the best thing about your wedding day? It's going to be a huge chapter in your brilliant love story.

And THAT is what I love to photograph – gorgeous love stories. And you know what? I'm pretty damn good at doing just that.

Many of my clients are camera-shy, some aren't very interested in hours of group shots. ALL of my clients want to have creative and luxurious photos of a brilliant day, and don't want a photographer getting in the way. (Just so you know, I've been known as The Ninjographer for a long time now.) Like them, you just want your brilliant day captured with ease, and to have photos to show anyone who stands still long enough to take a look.

I'm creative, and you're amazing. It's like a match made in heaven…

View availability
We love the wedding pictures - thank you so much! I don't know if I've said it enough, but thank you so so much for everything you did on the wedding day for us - and the party before too! You helped us out so much from the very beginning, with the wedding dress corset trauma to helping us in the rain - all while taking the most amazing pictures! We couldn't have done it without you and we really appreciate it. And we had such fun with you as well - I'm sure people say this all the time, but I'm not a big fan of pictures of myself, and you may have taken the only profile shot of me I actually like - and it was all because we were so chilled and relaxed with you. :-)
We knew as soon as we got engaged that we wanted Jay to capture our big day. She was utterly brilliant, snapping away without us even knowing. We wanted photos that summed up our day/relationship/family and Jay totally got that. Every time I look at our photos I grin from ear to ear. I would (and have ) recommended Jay to everyone I know.
Spent a lovely afternoon looking at our beautiful wedding photos by Jay Emme Photography. Seriously, absolute genius - she's captured our beautiful day so perfectly! I can't recommend this brilliant lady enough - if you're getting married, or know anyone who is, go look at her site. Genius I tell you. Perfect, beautiful genius xxx
Oh my goodness Jay they are absolutely stunning!!!! My phone has not stopped pinging with comments about the pics looking like something from a magazine! I absolutely love your style and I was feeling a touch of post wedding blues until I got to see these beautiful pics, they captured our day so amazingly well! We have a few friends who are engaged so as soon as they start planning we will be giving them your details!! Thanks sooooo much you are a photographical genius!
Thank you for these gorgeous images! We are so pleased and excited to share them! We definitely want to order some prints but at the moment it is too hard to choose. I also wanted to say a huge huge thank you for your part in making our day so special. It was such a relief not to be scared of the camera. We just look so happy in the pictures! All our family and friends have had wonderful things to say about you. My Dad in particular thought you were fantastic. Thank you again.
Just got the wedding gallery from everyone's favourite Ninjographer, Jay Emme. I am overwhelmed – the day is there in all its glory. Thank you so much, Jay. You captured the love in that day on film for us and we will always have those lovely memories of our day and our love. We are so grateful. Love you loads xxx
We wouldn't hesitate to recommend Jay's wedding photography services. During the planning process she provided great advice and was very easy to work with. On the day itself Jay was a reportage ninja, seeming to be everywhere but never getting in the way. As our photos testify, she'd managed to get amazing shots that wouldn't have occurred to us and covered every aspect of our wedding beautifully. If you're after amazing photo memories of your big day then give Jay a call – you won't regret it!
Jay, our wedding photos are amazing. I got emotional, you captured our day perfectly. AMAZING!!! Everyone I know who has seen the pictures has said how amazing they look, so thank you so much for being awesome.
Who are we?
Relaxed Fun Wedding Photography for Awesome Couples in Love! Fun People, Real Weddings, True Love Stories
Send an enquiry to Jay Emme Photography now
Who we are:
Relaxed Fun Wedding Photography for Awesome Couples in Love! Fun People, Real Weddings, True Love Stories
Once you have a confirmation email, you will be able to go into your account and enjoy all these features.
Checklist

Budget Calculator

Guest List Tracker

Table Planner

Gift List

Checklist

Budget Calculator

Guest List Tracker

Table Planner

Gift List

Are you sure?
If you don't ask, you'll never know...
Continue to chat
Leave
Is this supplier not for you?
Explore other suppliers.